About

consulting

check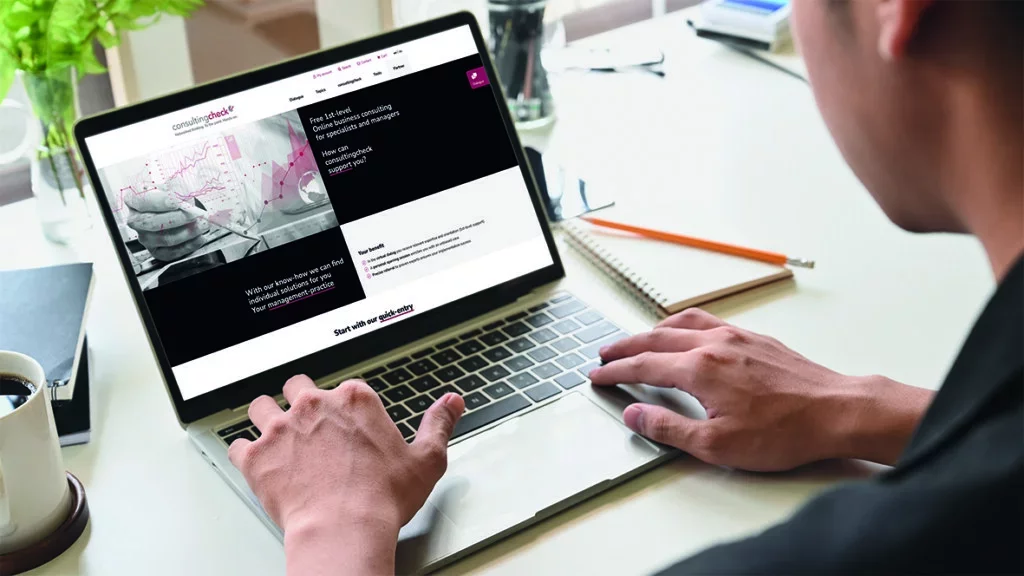 What is

consulting

check?
consultingcheck is a digital platform for business consulting aimed at specialists and managers in companies of all industries, sizes and lifecycle phases.
With consultingcheck, you can systematically sharpen your individual business challenges in an interactive exchange and crystallize effective solution approaches.
If you are heavily involved in your demanding day-to-day business, you run the risk of not recognizing all possible courses of action. No one can expect practitioners to know all the relevant methods and process models.
Whether you want to internationalize your sales or increase revenue, whether you want to digitalize processes, restructure your company, sell it or master other major challenges: consultingcheck gives you a methodical overview and orientation on-the-job and shows you specifically suitable and proven ways and instruments exactly when you need it.
You also benefit from break-through whitepapers, practical checklists, useful templates, business management applications, relevant background information and valuable contacts.
Use consultingcheck as your personal coach for top performance.
Services of

consulting

check
The core service of consultingcheck is a digital, interactive business consulting service that supports registered users in the following phases of the consulting process:
an introductory prelude to the dialogue with users, where you can specify what you want to do, e.g. get info on a specific topic or solve a current challenge
an interactive narrowing down of your current challenge ("diagnosis")
a systematic approach to effective solution components and impulses according to scientifically recognized standards
a recommendation of effective measures (1st level therapy recommendation) in application
the offer of practical implementation aids (access to useful checklists and proven applications, e.g. business value calculation, liquidity planning)
the offer of 2nd-level telephone support
and a targeted service mediation ("referral" to specialists) for 3rd-level support and for implementation support.
In addition to the consulting application, consultingcheck offers the following:
a set of placement exchanges

a company exchange
a job exchange
and a machine and material exchange

relevant literature recommendations
and, in the future, a video panel offering interviews with experts.
As a registered user, you also benefit from attractive special conditions for paid services, e.g. for SystemScan and for workshops and congresses.
Claim of

consulting

check
How consultingcheck can help you
consultingcheck assumes that you are an expert in your field. We do not want to and cannot explain the basics of your job to you.
What consultingcheck wants to and can help you with is to recognize the non-obvious things that can make you more successful. You know your business, your markets and how you work much better than any consultant who comes to you. Consultants bring in methods that they provide to you. They ask questions you wouldn't ask, and in doing so, challenge you and your teams beyond your day-to-day operations to think about and successfully implement effective approaches. Consultants complement you.
This complementation is exactly the ambition of consultingcheck. We would like to introduce you to suitable solution approaches through dialogue, which you can then implement yourself or together with specialists we recommend to you.
Why we think we can do this
As the authors of consultingcheck, we have many decades of management and consulting experience in many industries and in different corporate situations with very different challenges. We have developed expertise and a keen sense of what works and what doesn't work. We have learned to think outside the box to find effective and sustainable solutions.
We have brought all of this experience, methods, examples and tools to consultingcheck to help you overcome your challenges and strengthen our economy.
We do not use the gender form in consultingcheck. The form used is representative of all genders. We do not want this decision to be understood as a disregard; rather, the decision not to use the gender form serves the purpose of easy readability.